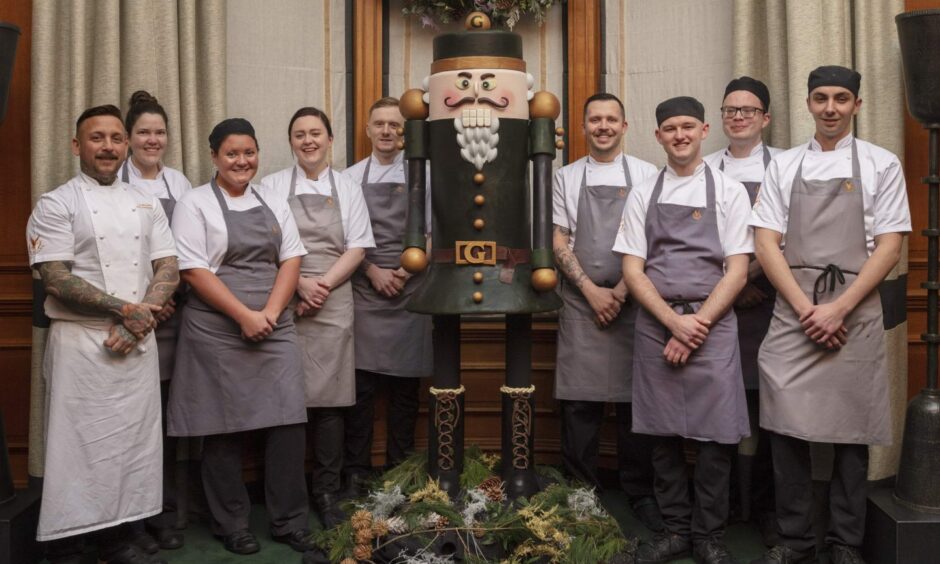 Gleneagles in Perthshire has welcomed a new edible addition to its door staff team as a 123kg Nutcracker made from chocolate has now taken up residence.
Standing at 5'7 feet tall, the extravagant festive chocolate creation was crafted by the luxury hotel's culinary team.
Gleneagles' executive pastry chef, Phill Skinazi, and his talented team spent five days days creating the chocolate Nutcracker which is displayed in the venue's foyer for the hotel's guests to enjoy.
The Nutcracker
The Nutcracker is entirely free standing, supported by just two small wooden dowels at its base.
Dressed in the classic Gleneagles uniform and sporting a bell-boy cap, it is made entirely of quality Valrhona chocolate and weighs in at 123kg.
Built around a 40kg chocolate slab for structural balance, chef Phill Skinazil formed the body within a traditional kitchen stock pot before it was beautifully hand painted and finished by the team.
The idea to build the chocolate Nutcracker was first imagines in 2019 when Phill Skinazi made Gleneagles' gingerbread house. It was his hope to make it in 2020, however, he has had to postpone making it for two years due to the coronavirus pandemic.
After the festive season is over and the Nutcracker will be taken down from display on January 2.
The painted outer shell will be removed and the 40kg chocolate centre will be used by Gleneagles' chefs as and when required, and they will also turn any other chocolate they don't use into brownies and chocolate chip cookies to treat the rest of the hotel team in the staff canteen.
Any other chocolate will be made into chocolate soil which can be used for a multitude of things including in the Beatrix Potter floral display that is in the Glendevon.
For those looking to challenge themselves in the kitchen and replicate the Gleneagles' staff's efforts, it will cost you a penny or two to make the Nutcrakcer who is 1.5 times the weight of the average man.
A 250g bag of Valrhona chocolate chips is priced at around £9.60 online, which means a 5'7ft 123kg Nutcracker could cost home bakers up to £4,723.20 if they tried it out for themselves.