She's one of the most important Scots – but very few people have heard of Kath Duncan.
Indeed, the legacy of the fiery working class heroine, who led some of the biggest civil rights campaigns of the 20th century, seems to have been airbrushed right out of history.
All that is about to change, however, with a project to see Kath, who considered Kirkcaldy as her true home, recognised as a national treasure.
The man at the helm is multi-award-winning filmmaker and activist Ray Barron-Woolford.
He has already written a biography and a play and made a documentary about Kath – and next on his radar is a huge street mural and a 'lighthouse community hub'.
Essentially, he hopes to create a 'Kath Duncan Arts Quarter' in the Fife town.
Light House
The proposed Kath Duncan Light House will occupy an abandoned building in Hill Street and act as a vibrant place for all to use, from schools to artists to community groups.
It aims to be the UK's first working class, social justice, civil rights archive and community hub.
On the gable end will be a huge, colourful mural of Kath, capturing the moment as she led 30,000 people on a march from Deptford on the gas works on Old Kent Road, South East London, against high charges for the poor.
Ray, however, has no qualms about using a bit of artistic licence in the creation: rather than featuring the faces of people in London, the Kirkcaldy mural will show the faces of local people, chosen by members of the community. That's democracy for you!
Fife landmark
A crowdfunding appeal has been launched to raise the £25,000 needed for the mural, while a bid is in for lottery funding to transform the building, which is in what Ray describes as a "grim" street.
But he hopes it could soon become a "meeting point" – and a "landmark" in Fife.
Based in Deptford, Ray has been obsessed with Kath's life since he stumbled across an article about her online.
A working class woman who hailed from a humble background, Kath fought for social equality, influenced some of Scotland's most historic uprisings, formed an "extraordinary" friendship with Winston Churchill (and helped him win his by-election campaign in Dundee in 1917), and rubbed shoulders with suffragettes such as Emmeline Pankhurst.
"I could only find one article about her online at the time, and although I discovered it was inaccurate, it was interesting enough for me to spend five years researching Kath's life," says Ray.
Looking ahead
Having already written a book, The Last Queen of Scotland, a play, Liberty about Kath, and made a documentary, also called Liberty, about the activist, Ray is looking ahead to the future – and has his eye very much on creating a Kath Duncan Arts Quarter in the heart of Kirkcaldy.
"Kirkcaldy has a vibe like the seaside town of Margate in Kent before the Turner Museum arrived," says Ray.
"There's neglect and austerity, but there's also huge potential here. It's an exciting time for the Fife town and to be part of its regeneration is fantastic."
Lived and loved
It was in Kirkcaldy that Kath (nee McColl) lived and found love, marrying fellow teacher Sandy Duncan at the Carlton Tea Rooms on Christmas Eve, 1923. She died in the town in 1954 after returning to live with her sister.
The five-foot-two redhead was a communist who stood up for her community in London where she gave speeches, organised marches and was a fierce fighter for the poor.
She campaigned against slum landlords, poverty and low pay – despite her heath suffering through spells being chucked into jail for her activism.
Kirkcaldy has a vibe like the seaside town of Margate in Kent before the Turner Museum arrived. There's neglect and austerity, but there's also huge potential here."

RAY BARRON-WOOLFORD
And recent research has shown that Kath was a lesbian and used her London home to create a safe space for lesbian and gay men at a time when homosexuality was illegal in the UK.
Ray's hope is that by having an area, or a "quarter" dedicated to Kath in the centre of Kirkcaldy that he will raise awareness of the amazing work she did.
Historic moments
He visited Kirkcaldy, Friockheim, Edinburgh and London last year, visiting the houses where Kath lived and strolling the streets on which she campaigned to recreate some of her most historic moments for his documentary.
He was also keen to interview Neale Hanvey as the first openly gay MP for the Kirkcaldy and Cowdenbeath constituency.
The MP drew on Kath's story to discuss current divisions in the LGBT movement following moves to advance transgender rights.
He also spoke of his experiences as a gay man in the 1980s and the support the gay community received from women during the Aids pandemic.
Mr Hanvey is also keen to see a statue or street named in honour of the radical schoolteacher, saying: "She is exactly the sort of person that should be taught in schools – a name that should be connected to Kirkcaldy and celebrated no less than Adam Smith."
Meanwhile, while researching his book and play, Ray was helped by George Proudfoot of Kirkcaldy Civic Society.
Celebrate and chronicle
Ray hopes the Kath Duncan Lighthouse will celebrate and chronicle working class history and inspire a new generation of community activism and engagement.
It plans to use state-of-the-art technology, even turning local folk into avatars to tell Kath's story, as well as their own.
The centre will be a "living community space" allowing the community, and visitors, to explore everything from Black History and LGBT History Month to International Women's Day, mental health, refugees and poverty through a series of installations, exhibitions, book clubs, music, and debate.
"Kath's Light House will shine a light, inspire, and empower while enabling people around the world to share and access the history and heritage archive," says Ray.
"This will also make films about events that are not widely known, record current social justice and civil rights campaigns, and collect protest songs."
Community consultation
Schools and community groups start working on the giant mural this month, with consultations being held to decide who should feature in it, alongside Kath.
Contenders might include Adam Smith or former prime minister Gordon Brown – also from Kirkcaldy.
They might also be people who work in a foodbank, community members who have inspired and influenced, or with stories that deserve a place in history.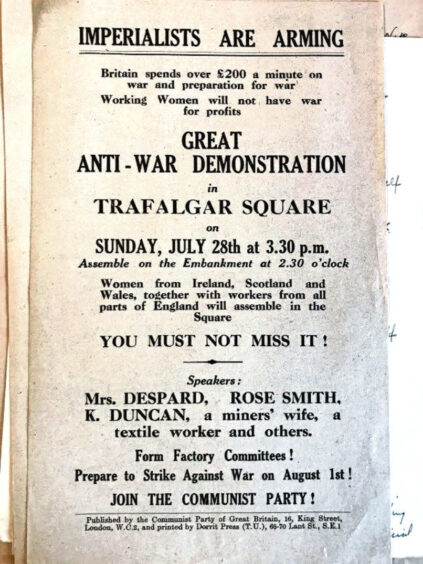 Until December 23, people are being asked to submit nominees for inclusion in the mural which will be painted by leading UK mural artist Boudicca Collins and local artists.
The painting will start as part of LGBT history month in February 2023. It will be unveiled on March 8 – International Women's Day – along with a screening of Ray's new documentary about Kath.
Street art
"We hope the mural will form part of the regeneration of the town and be something that everyone living, working, and visiting will enjoy," says Ray.
"Street art should never be underestimated in its importance in building pride a and sense of community.
It has a positive impact on mental health and improves the environment.
"While the location seems tucked away, the new town centre plans will see this area transformed into a jewel in the Kirkcaldy's historic crown with the faces of Kath Duncan and local people who have shaped its place in history.
"It's about bringing Kath Duncan home to Kirkcaldy."
Shaping Kirkcaldy's history
Ray has invited all residents and schools across Fife to submit names of those they'd like to see on the wall.
"It might be people who have shaped Kirkcaldy's role in history or made an impact in transforming the local community," he says.
"It could be a teacher, a food bank worker, a local character, or even a homeless person who has called Kirkcaldy home.
"Pupils will then draw or paint picture of their hero. These will be kept in a time capsule with the winning picture copied on the mural by Boudicca Collins alongside local Scottish artists.
"The hope is this will lead to a Kath Duncan Arts Quarter', boost the local economy, bring in more tourism and create greater interest in local history and community engagement."
We hope the mural will form part of the regeneration of the town and be something that everyone living, working, and visiting will enjoy."

RAY BARRON-WOOLFORD
Film success
Ray's film, Liberty, already won six international awards prior to its official launch via the film festival network, globally, as part of LGBT History Month in February 2023.
"It is the most successful LGBTQ-driven film ever and is even being screened in Iran, Uganda, Egypt and mainland China – countries in which it's still a crime to be LGBTQ!" says Ray.
"Kath's story is about our times and I'm sure every one in Kirkcaldy will be proud she is becoming a global hero even after death."