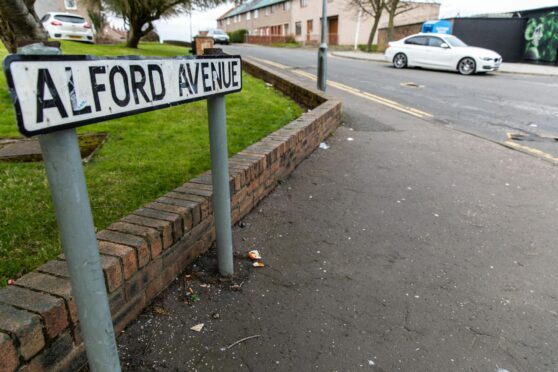 A woman chased a man down a Fife street and twice stabbed him after accusing him of stealing her DWP money and "trying it on".
Kelly Horne left Craig Easson with a 2cm stab wound to his left side and 1cm wound to his left buttock during the attack in Kirkcaldy, which was captured on CCTV and played in court.
Mr Easson had jumped out a window and fled down the street after being accused of stealing money.
Horne, 33, of Alford Avenue in Kirkcaldy, pled guilty to the charge of pursuing Mr Easson and repeatedly striking him on the body with a knife to his injury, when she appeared in the dock.
An accomplice, Benjamin King, 32, appeared alongside her at Kirkcaldy Sheriff Court and admitted assaulting Mr Easson by pursuing him and bringing him to the ground during the same attack on March 4 2020.
Court papers state the incident took place in Alford Avenue and Beauly Place.
Sheriff James Williamson said: "That's appalling, to chase a man down the road, knock him down and stab him twice."
Chase in street
Horne's defence lawyer, Ross Bennett, told the court Mr Easson had been living with Horne and her partner for a couple of days prior to the incident and the co-accused was also present at the property on the day in question.
An altercation took place between Mr Easson and King, which led to the complainer having a "bloodied head".
The solicitor said: "She (Horne) took him into the bathroom and tended to minor cuts and during that process when the door was closed, according to her, Easson made a pass at her on two occasions.
"It settled down and they went into the lounge where other people were."
The lawyer said that a short time later, Horne discovered money she was keeping in her purse – a grant received from DWP – had disappeared.
Mr Bennett continued: "She knew it would not be her partner or co-accused and I think she said, 'where's my f***ing money'.
"At this point Mr Easson was having a cigarette at the window and jumped out and was pursued by my client and the co-accused and a picture (CCTV) paints a thousand words.
"My client was livid – firstly, with him trying it on and, secondly, the fact that he had (according to her) stolen money when he had been living with her rent free."
Mr Bennett acknowledged anyone using a knife is serious but stressed in this case it was "not terribly significant".
Rugby tackle
King's defence solicitor, Kerr Sneddon, said his client gave chase and "sort of rugby tackled him (Mr Easson) to the ground and held him, and did not know anything about the knife".
Sentencing was adjourned until April 21 for background reports and both were released on bail.
Sheriff Williamson added: "Miss Horne, you should not assume because of bail, a custodial sentence is ruled out.
"You can not go round stabbing people in the street."