A Fife man with learning difficulties was left with facial injuries when he was robbed in a heartless attack.
Paul Smith, described by his family as a gentle giant, was set upon in Kirkcaldy on Friday evening.
The attacker made off with Paul's wallet and left him bleeding and bruised.
Police have appealed for anyone with information about the incident, which happened in a lane off Fair Isle Road in the town's Templehall area between 9.15pm and 10pm, to contact them on the 101 number.
Paul's sister Viv Fortune, 49, said: "It happened about 40 yards from his home.
"He went into the Co-op and used his card to make a purchase. He walked home and it was between there and home.
"They came at him from behind. I think his head has been smashed into a wall.
"Paul's a gentle giant and is a well known character. He has learning issues and is quite a vulnerable adult.
"People usually look out for him, and it's been quite a shock in that respect that this has happened on his doorstep.
"We phoned the bank and cancelled his card because they got his wallet and we've since found out they used his card three times in shops in the area within 15 minutes of it happening."
Paul sustained a laceration to his head and a black eye in the attack.
Viv said despite his ordeal he was "bearing up remarkably well".
She added that police have indicated the suspect, who has been caught on CCTV footage, is an individual known to local officers.
"Things like this shouldn't happen on your doorstep," said Viv.
"It happened round the back of an old folks' home and it could have been anybody walking down there."
A Police Scotland spokesperson said: "We received a report of a 53-year-old man who was robbed in Kirkcaldy on Friday, October 23.
"The incident is believed to have happened in the Fair Isle Road and Lismore Lane area between 9.15pm and 10pm.
"The ambulance service attended and the victim was treated for facial injuries. It's believed his wallet was stolen.
"Anyone with information about this incident should contact us on 101 quoting incident number 3750 of October 23, 2020."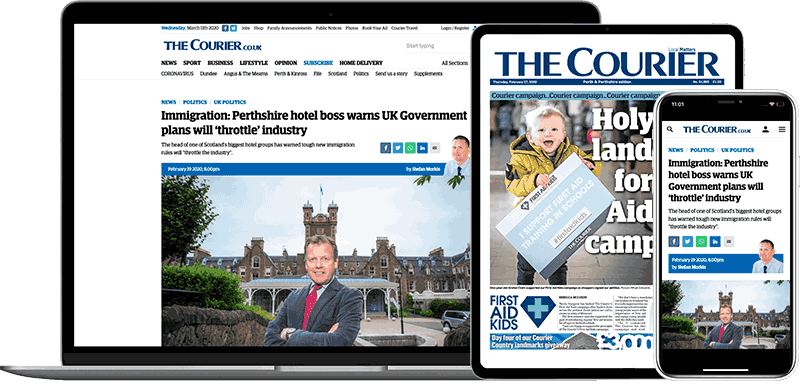 Help support quality local journalism … become a digital subscriber to The Courier
For as little as £5.99 a month you can access all of our content, including Premium articles.
.dct-cta–subscribe { background-color: #143c70; } .dct-cta–subscribe .dct-cta__title { color: #ffffff; } .dct-cta–subscribe .dct-cta__content p { color: #ffffff; } .dct-cta–subscribe .dct-cta__btn { background-color: #005a9e; color: #ffffff; } .dct-cta–subscribe .dct-cta__btn:hover, .dct-cta–subscribe .dct-cta__btn:focus, .dct-cta–subscribe .dct-cta__btn:active { background-color: #ffffff; color: #005a9e; }