Scottish Labour leader Richard Leonard has called for more support for the economy amid fears businesses are struggling to deal with the Covid-19 pandemic.
Mr Leonard spoke to traders on Kirkcaldy High Street on Wednesday to find out what kind of investment was needed to bring shoppers back.
Some estimates suggest a third of the 350,000 furloughed Scots workers could be out of work when the job retention scheme comes to an end on October 31, sparking concerns over reduced spending on high streets.
Kirkcaldy is typical of many shopping centres across the country where a number of larger chain stores have closed but new, independent businesses are beginning to move in.
Mr Leonard said: "The pandemic has led to lots of business closures and we want to work out what we need to do to reinvest in town centres for the future."
The Labour leader said Tuesday's announcement of further restrictions, particularly the ban on visiting other households inside, had come as a blow to many people.
"When a six months time horizon is being spoken about, that's a concern for people and it's a concern for the local economy and what it means for businesses here," he said.
"People are facing potentially losing their jobs and that will take a massive amount of spending power out of high streets like the one we're in today and place further pressure on businesses that are currently able to stay open.
"There needs to be a strategic view taken by the government that understands that at this time the last thing we need to do is taken even more money out of the economy.
"We need to be investing more in the economy and in the people who work in the community."
He said there was a need for targeted support for particular sectors including hospitality, creative industries and aviation, where there has been a collapse in demand.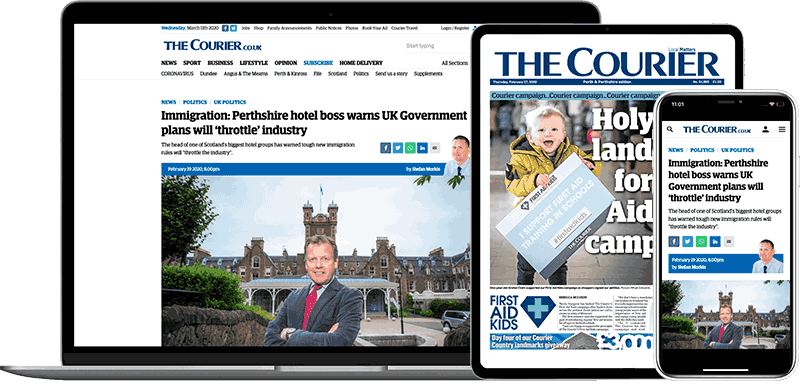 Help support quality local journalism … become a digital subscriber to The Courier
For as little as £5.99 a month you can access all of our content, including Premium articles.
.dct-cta–subscribe { background-color: #143c70; } .dct-cta–subscribe .dct-cta__title { color: #ffffff; } .dct-cta–subscribe .dct-cta__content p { color: #ffffff; } .dct-cta–subscribe .dct-cta__btn { background-color: #005a9e; color: #ffffff; } .dct-cta–subscribe .dct-cta__btn:hover, .dct-cta–subscribe .dct-cta__btn:focus, .dct-cta–subscribe .dct-cta__btn:active { background-color: #ffffff; color: #005a9e; }