An impromptu stunt by friends brought tears of joy to a Fife bride and ensured her day was one to remember, despite the coronavirus restrictions.
Lisa Brennan, 34, was about to marry her fiancé Robert Foreman, 45, and was left stunned when she arrived at Kirkcaldy Town House to find eight of her close friends dancing the Slosh and Highland Fling to the accompaniment of a lone piper.
Desperate to support the bride on her big day despite after being unable to attend the wedding ceremony, the girls performed the dance routine in the public square.
"I couldn't believe my eyes when the car pulled up outside and there were all the girls dancing away in the town square," said Lisa.
"It was such a surprise and a really lovely touch which had me shedding a few happy tears that's for sure."
Lisa and Robert had rearranged the Town House ceremony after being forced to cancel their original wedding day in May because of the lockdown. With social distancing restrictions still in force, the couple could only invite a handful of close relatives to the rearranged date.
Lisa's work colleague Julie Blake said the group was determined to be there for her big day, although the dance routine had not been planned.
"We've been trying to teach Lisa the Slosh in our break times at work as she can't do it," explained Julie.
"We were waiting for Lisa to arrive and we started dancing because the piper was playing.
Lone piper Steven Dewar gave the girls the right beat for the Slosh and the friends performed the dance routine which was captured by wedding photographer Rachel McLean.
"Had we planned to do it the stunt would probably not come off but as it was a spur of the moment thing it caught everyone, including us by surprise. Passers by were even stopping to watch and film us," added Julie.
"When Lisa arrived I think we all shed a tear or two but it was good fun and will be something all of us will laugh about in years to come, I'm sure."
Now happily married at their home in Glenrothes, the couple say they are still laughing about the pals routine as the they plan ahead for a honeymoon, which they say they have put off until next year.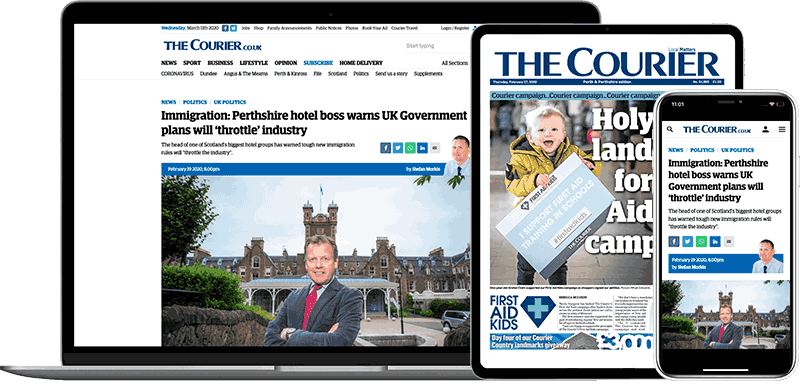 Help support quality local journalism … become a digital subscriber to The Courier
For as little as £5.99 a month you can access all of our content, including Premium articles.
/**/