A detailed report is to be produced into Fife Council's handling of major flooding incidents in a bid to see if lessons can be learned.
It comes after thousands of pounds worth of damage was caused by last month's thunderstorms and torrential downpours to areas such as Kirkcaldy, Cardenden, Kinghorn, Burntisland and Auchtertool.
Labour councillor Neil Crooks, convener of Kirkcaldy's area committee, organised a special summit on the issue.
Council officials have now been asked to compile a full report into the planning and handling of emergency incidents to identify any major infrastructure weaknesses and inconsistencies.
Vehicles at Kirkcaldy's Victoria Hospital car park were submerged while people in Valley Gardens and Invertiel Port Brae in Kirkcaldy, the Haugh Road in Burntisland, and areas around Wallsgreen Park in Cardenden were left counting the cost of the flood water.
Hospital workers' cars wrecked and landslide at caravan park after apocalyptic storm batters Fife
Mr Crooks said: "People need to have assurance that the devastation they endured, and continue to endure, will be addressed.
"That is our challenge."
Various pinch points across Fife which tend to flood during periods of heavy rain are expected to be identified in the report, and major issues – such as a lack of gully and burn cleaning in certain areas – have already been picked up.
Mr Crooks continued: "All councillors referenced feedback in the community about the lack of gully cleaning, road drains being solid with dirt.
"We accepted that even if they were free running they would not have coped with 12 hours of torrential rain, but more regular or targeted cleaning was a definite request."
Concerns about investment in sewage systems, some of which are over a century old, have also been raised, as have problems faced by businesses and individuals in relation to insurance.
Labour councillor Altany Craik, who convenes Fife's economy, tourism. strategic planning and transportation committee, is also writing to the Scottish Government to ask for additional funding to help with major incidents such as flooding.
He said: "There will be a lessons learned exercise after the initial emergency, but we need a fundamental review of our approach – not just tinkering round the edges.
"There is always a next time as events like these become more and more common.
"We have strong communities and the tales of neighbours helping one another are truly inspiring.
"But we cannot continue to simply tidy up the carnage after the event, and that is why I am calling for a new approach to dealing with emergencies like this."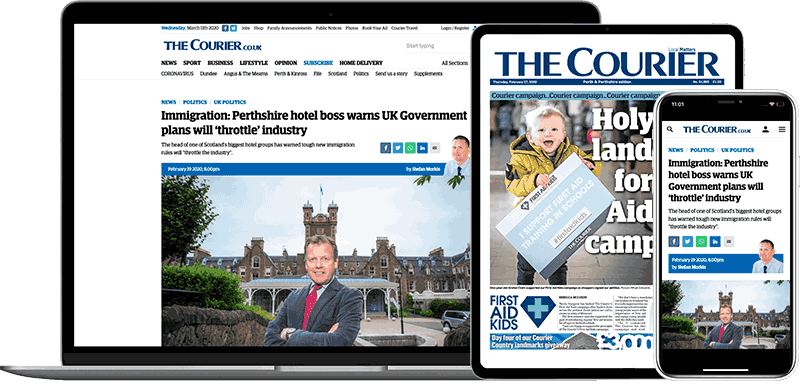 Help support quality local journalism … become a digital subscriber to The Courier
For as little as £5.99 a month you can access all of our content, including Premium articles.
.dct-cta–subscribe { background-color: #143c70; } .dct-cta–subscribe .dct-cta__title { color: #ffffff; } .dct-cta–subscribe .dct-cta__content p { color: #ffffff; } .dct-cta–subscribe .dct-cta__btn { background-color: #005a9e; color: #ffffff; } .dct-cta–subscribe .dct-cta__btn:hover, .dct-cta–subscribe .dct-cta__btn:focus, .dct-cta–subscribe .dct-cta__btn:active { background-color: #ffffff; color: #005a9e; }